Artwork Guidelines
*You can upload artwork during the ordering process OR email the artwork to: artwork@emagnets.com
Artwork File Formats:
We can use artwork from the following programs:
Adobe Illustrator up to CC
Corel Draw up to version X4
PhotoShop up to CC
InDesign
BE SURE TO CONVERT ALL FONTS TO OUTLINES OR CURVES PRIOR TO SENDING.
Also IF ARTWORK USES RGB COLOR TABLE THERE MAY BE A NOTICEABLE COLOR SHIFT TO CMYK. PLEASE CONVERT TO CMYK PRIOR TO SUMBITTING.
Or, we can accept artwork in the following formats:
.eps, .emf, .cgm, .pdf, .wmf, .psd
We can accept raster files only if the image is a minimum of 300 dpi at actual size to be printed.
If the artwork is multi-colored, a vector format with spot colors must be provided unless the final print is to be a CMYK print.
Standard Screen Printing Colors:
To view our chart of Standard Screen Printing colors, please click here.
If you would like to color match a specific color not listed on our Standard Colors chart, there may be additional charges.
Bleed Guidelines:
Most of our custom magnets need a 1/8 inch bleed and gutter. See illustration here for an example.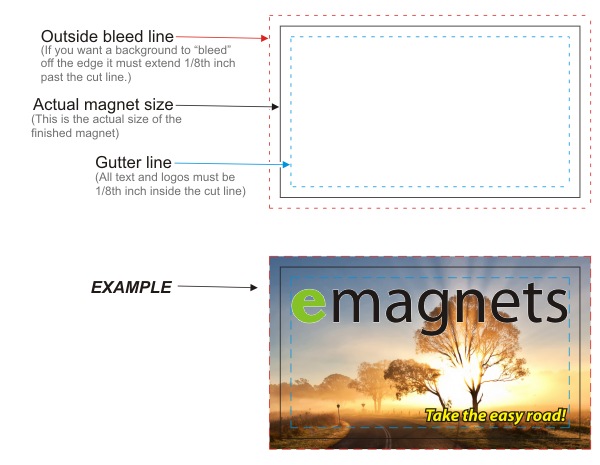 Unacceptable Artwork:
We cannot use:
Faxed artwork
.jpeg images
ANY pre-printed items
It will expedite your order to provide us with acceptable artwork. Our production times listed on our product pages are strictly for production time. If artwork needs to be created or modified it will add to the turn around time.
If you need assistance with your artwork, contact us: artwork@emagnets.com or 1-800-454-3077.